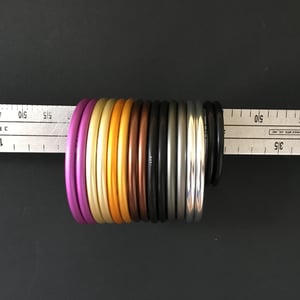 £

16.00 - On Sale
7 x Pairs of 3" Aluminium Sling Rings + 1 Pair 2" in the following colours :
1 x Purple/Pink
1 x Pale Gold
1 x Gold
1 x Bronze
1 x Black
1 x Slate
1 x Shiny Silver
1 x pair of 2" Black rings on the end which do not show up on the picture.
The majority of these rings are from Rings for Baby Slings and are fully tested to the relevant safety standards. They are weld free, Nickel free and non toxic. *This set may contain rings from Didymos and these are also fully tested.
Each pair of the rings that are being sold in this set cost £6.00 each they are being offered here as a job lot for £28.00 * now reduced to £23.00 + £2.90 P&P We will not be splitting these sets.
Items ship within 24 hrs of payment being received.